Colonel M N Rai to be accorded Guard of Honour in the national capital
New Delhi: Colonel MN Rai who was martyred by militants in Jammu and Kashmir just a day after being awarded Republic Day gallantry medal, will be accorded with Guard of Honour today in New Delhi.He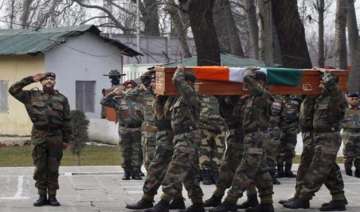 India TV News Desk
January 29, 2015 11:15 IST
New Delhi: Colonel MN Rai who was martyred by militants in Jammu and Kashmir just a day after being awarded Republic Day gallantry medal, will be accorded with Guard of Honour today in New Delhi.
He was the youngest of 13 officers awarded the Yudh Seva Medal on Monday, for killing a terrorist in a close battle last year.
His fellow officers knew him as a brave soldier who always led from the front. He is survived by his wife and three children.
He is the highest-ranking military officer to be killed in the region in nearly a year.
Col Rai along with a policeman, Sanjeev Singh was also killed as they tried to corner militants who had taken refuge in a house.
When the house was cordoned, the terrorists went all out and shot at them.
Two Hizbul Mujahdeen militants were also killed in the encounter.