'Congress confident of winning all LS seats in Chhattisgarh'
Raipur : The main opposition Congress in Chhattisgarh yesterday claimed it would win all the eleven Lok Sabha constituencies of the state."Our party is fully prepared for the coming election. We will expose the corruption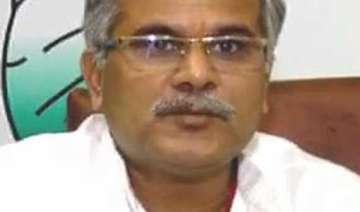 PTI
March 07, 2014 9:46 IST
Raipur :
The main opposition Congress in Chhattisgarh yesterday claimed it would win all the eleven Lok Sabha constituencies of the state.
"Our party is fully prepared for the coming election. We will expose the corruption of BJP government and how it went back on promises," state Congress chief Bhupesh Baghel said.  The party was confident that UPA would again come to power under Rahul Gandhi's leadership, and Chhattisgarh Congress would be playing a key role by winning all the eleven Lok Sabha seats here, he said.
As a part of the election campaign, Congress had already started conducting party workers' conventions at booth level, he said. Such conventions had been held in Raipur, Balodabazar, Kawardha and Bemetara so far.  
A convention was yesterday held in the Naxal-affected Bastar district's headquarters, Jagdalpur, where AICC General Secretary B K Hariprasad was also present.  The party would focus on Raman Singh government's corruption and how it cheated the farmers and education employees (shiksha-karmis), he said.  
It would also highlight achievements of UPA-I and UPA-II and its welfare schemes, Baghel added.  In the present Lok Sabha, BJP has 10 MPs from the state while Congress has only one.