Congress Indirectly Hints At Rushdie Being Unwelcome
New Delhi, Jan 10: With Darul Uloom Deoband scholars demanding a bar on Salman Rushdie's entry into India, the Congress today indirectly said that the writer should not visit India at a time when elections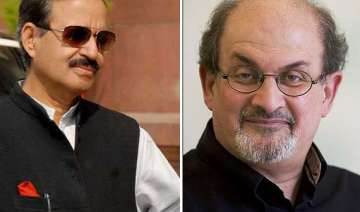 India TV News Desk
January 10, 2012 17:51 IST
New Delhi, Jan 10: With Darul Uloom Deoband scholars demanding a bar on Salman Rushdie's entry into India, the Congress today indirectly said that the writer should not visit India at a time when elections are on and the atmosphere was surcharged.

Party spokesperson Rashid Alvi said, we respect the sentiments of the people.

"Our party believes that nobody has the right to  hurt the sentiments of any community. We believe government will decide on Rushdie's visa keeping all aspects in mind."

"Since elections are on in five states, Rushdie's arrival is being made a political issue", he said.

On EC's notice to Law Minister Salman Khurshid for promising 9 per cent reservation in OBC quota to minorities, Alvi said, Congress had in its 2009 manifesto promised reservation to minorities.

"We stand by it. We have already given 4.5 pc reservation, and if EC has any objections to Salman Khurshid's statement it can send notice", he said.

Alvi denied that it was "communal politics". Our party believes in secularism, he added.