Continue with German in KVs as per SC order: Germany to India
New Delhi: Ahead of Prime Minister Narendra Modi's visit to Berlin, Germany today asked India to continue with teaching of German language in Kendriya Vidyalayas as per an order of the Supreme Court.German Ambassador Michael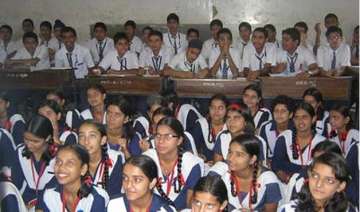 PTI
April 08, 2015 20:37 IST
New Delhi: Ahead of Prime Minister Narendra Modi's visit to Berlin, Germany today asked India to continue with teaching of German language in Kendriya Vidyalayas as per an order of the Supreme Court.
German Ambassador Michael Steiner said the Supreme Court has allowed teaching of German language in KVs from class VI to VIII and government should implement the order.
"In December last year, the court had provided a very good solution for a pragmatic outcome which would allow to continue to teach German in KV schools," he told reporters.
"It is also possible to teach German in the classes IX-X. Under the current situation, I think what we need is the implementation of what the court has said...," the German envoy asserted.
Modi will arrive in Germany on a three-day visit on Sunday.
The Supreme Court in December had asked the KVs to ensure that students, who want to pursue German or any other language as optional subjects, be provided with all facilities.
The Human Resource Development Ministry had in November decided to replace German with Sanskrit as the third language in the KVs.
The decision was criticised by Germany and the issue was even taken up with Modi by German Chancellor Angela Merkel on the sidelines of the G-20 summit in Brisbane in November.
The HRD Ministry, however, stuck to its decision arguing that the arrangement was against the three-language formula and "violated" the national policy on education.
Meanwhile, Steiner thanked India for its help in evacuating German nationals from strife-torn Yemen.
"I would like to reiterate our deep gratitude to the Indian government for helping evacuate German nationals from Yemen. That was deeply appreciated in Germany," he said.