Curfew in seven districts of Jammu, leaders barred from entry, internet connectivity cut in JK
Jammu, Aug 11: Authorities Sunday imposed indefinite curfew in seven of the ten districts of Jammu division, barred political leaders from entering the region and called out the army to prevent escalation of communal violence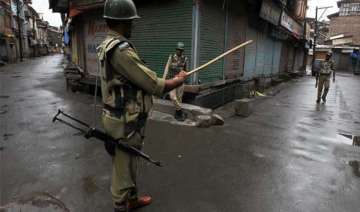 India TV News Desk
August 11, 2013 14:23 IST
Jammu, Aug 11
: Authorities Sunday imposed indefinite curfew in seven of the ten districts of Jammu division, barred political leaders from entering the region and called out the army to prevent escalation of communal violence in Jammu and Rajouri towns of Jammu and Kashmir.
The Amarnath Yatra has been temporarily suspended.
Indefinite curfew has been imposed in Jammu, Kishtwar, Samba, Kishtwar, Kathua, Doda and Udhampur districts.
Army staged flag marches as tension prevailed following outbreak of communal violence in Kishtwar on Friday that left two persons dead and scores of others injured.
While Kishtwar remained curfew bound for the third consecutive day today, curfew was imposed in Jammu and Rajouri districts and Army called out after some incidents of arson and violence last night.
Curfew was today extended to Udhampur, Samba and Kathua along with Bhaderwah town in Doda, thus affecting seven out of 10 districts of Jammu region.
"Curfew has been imposed in Udhampur, Kathua and Samba districts today as a precautionary measure and Army has also been deployed in the areas to assist local administration", Divisional Commissioner, Jammu, Shantmanu told PTI.
"The situation is tense but under control. There are no reports of any untoward incident today. Army has staged flag marches in several areas," he said.
The SPs of Udhampur, Kathua and Samba districts are monitoring the situation round-the clock.
Pathankote-Jammu-Srinagar highway, which is the only surface link between Kashmir and rest of the country is being kept open by the authorities amid deployment of additional forces.
Restrictions have been imposed on assembly of people in areas other than under curfew, police said.
Authorities imposed curfew and deployed army in the Jammu and Rajouri districts last night after some incidents of arson and communal tension.
"Army staged a flag march and took control of the winter capital city during midnight. The situation was brought under control," police officials said, adding that there were clashes between police and protestors, who turned violated and tried to set afire some shops.
Additional forces were deployed in sensitive areas to avert any untoward incident, they said.
A senior police told IANS that after violence in Kishtwar town, some miscreants were trying to disturb the communal harmony in Jammu city and other parts of the district.
"Curfew has been imposed in parts of Jammu city and Rajouri town to maintain law and order. The situation is peaceful and under control. Curfew has been imposed as a preventive measure," the officer said.
The army carried out a flag march after district authorities sought assistance from the general officer commanding (GOC) based in Nagrota.
The curfew was imposed around midnight in areas like Gandhi Nagar, Pacca Danga, Bakshi Nagar, Pir Mitha, Trikuta Nagar, Janipur, Satwari, Channi Himmat, Bagh-e-Bahu and Nowabad in Jammu city.
Amarnath Yatra pilgrims were told not to proceed towards the Kashmir Valley from here Sunday in view of the tension prevailing in Jammu city and its outskirts.
Police sources said curfew has also been imposed in Rajouri town of Rajouri district in Jammu region, where some miscreants pelted stones at a mosque Saturday evening.
Indefinite curfew continued for the third day Sunday in Kishtwar town where violence claimed two lives and properties worth millions Friday, in clashes between two communities.
The army was called out to assist the civilian administration Saturday, and staged flag marches in Kishtwar town to instil confidence among the people.
State Home Commissioner Suresh Kumar, Director General of Police (DGP) Ashok Prasad and Additional DGP (coordination) P.L. Gupta are camping in Kishtwar.
However, reports reaching here from Paddar area in Kishtwar district said four people were received bullet injuries Saturday in mob firing. Some shops were also damaged during the clashes.
Traffic on the Pathankot-Jammu and Jammu-Srinagar national highway remained disrupted for the entire day Saturday.
The Bharatiya Janata Party (BJP) has extended its protest shutdown call in Jammu for 48 hours, while hardline separatist leader Syed Ali Geelani has called for a state-wide shutdown against the Kistwar incident Sunday.
Senior BJP leader and parliament member Arun Jaitley is scheduled to visit Kishtwar town Sunday as the head of a fact finding team of the party.
Internet connectivity and mobile phone services were snapped in Jammu and Kashmir Sunday. Officials unwilling to be quoted admitted that the measure was taken in a bid to prevent the spread of rumours.
As tensions escalated, authorities have snapped lines of communication.
Service providers were tight-lipped about the development, but said this had become standard practice in times when tension simmered in the state.
BJP leader Arun Jaitley was prevented from entering Jammu, when he landed at Jammu airport. Local BJP leaders staged a sit-in outside the airport.
In Srinagar, PDP leader Mehbooba Mufti was detained in her residence, as authorities prevented her from leaving for Kishtwar.