Dairy Trader Jumps To Death From 8th Floor Of Vaishali Apartment
Ghaziabad, Apr 1: Rajesh Saxena, a milk dairy trader, jumped to his death from the high-profile Coral apartments in Vaishali near Ghaziabad today.A suicide note was found from his apartment which says he was taking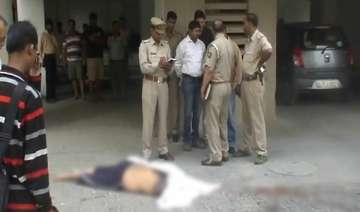 India TV News Desk
April 01, 2012 23:13 IST
Ghaziabad, Apr 1:
Rajesh Saxena, a milk dairy trader, jumped to his death from the high-profile Coral apartments in Vaishali near Ghaziabad today.
A suicide note was found from his apartment which says he was taking his life because of excessive stress.
The man jumped from the eighth floor of the apartment block.
SSP Ghaziabad Raghuvir Lal said, the exact cause of suicide is being investigated.