Damini gangrape, the tale of a helpless daughter of India
New Delhi: The Dec 16, 2012 Delhi gang-rape case seems like a plot of Damini, a 1993 Hindi film directed by Rajkumar Santoshi, in which a rape victim dies after battling for life in a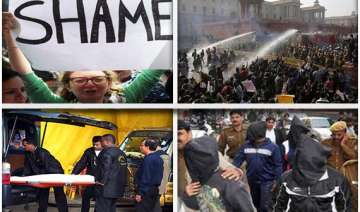 PTI
August 31, 2013 16:17 IST
New Delhi:
The Dec 16, 2012 Delhi gang-rape case seems like a plot of Damini, a 1993 Hindi film directed by Rajkumar Santoshi, in which a rape victim dies after battling for life in a hospital. 
However, the similarity ends just there because this is reality -  a reality which is hard to believe because it involves the brutal sexual assault of a young girl who wanted to serve the nation by becoming a paramedic.
Months into the incident, the Juvenile Justice Board has pronounced the juvenile guilty. The teenager has been found guilty of taking part in the gang rape of a paramedical student.
Let's go back and see what exactly happened on that fateful night.