Darjeeling cable operators banned from airing pro-Gorkhaland news
Darjeeling, Aug 10: The Darjeeling district authorities Friday  ordered three local cable TV operators to stop airing news alleging they were favour of the Gorkha Janmukti Morcha and creating tension in the hills, prompting the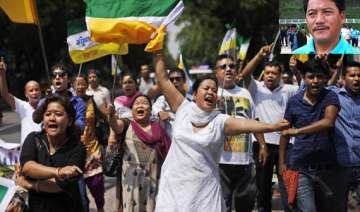 PTI
August 10, 2013 6:58 IST
Darjeeling, Aug 10:
The Darjeeling district authorities Friday  ordered three local cable TV operators to stop airing news alleging they were favour of the Gorkha Janmukti Morcha and creating tension in the hills, prompting the Morcha president Bimala Gurung to term it as Taliban-style" gag.
Official sources here said that the content of the news, heavily slanted towards the Gorkha Janmukti Morcha, was creating tension in the hills.
Reacting to the order, Bimal Gurung said it was "Taliban-style" and violated people's democratic rights.
"We will not be surprised if next mobile telephone services are stopped. We will continue our agitation and will not enter into a dialogue with the West Bengal government," Gurung said near Singmari.
Gurung said that he was not going to Delhi at the moment and that efforts were being made to fix a meeting with Congress vice-president Rahul Gandhi.
Meanwhile, the condition of GJM supporter Purba Sherpa (32), a physically challenged person, who attempted self immolation yesterday, remained critical at the Darjeeling Sadar Hospital here.
As the new Darjeeling district magistrate Punit Yadav is scheduled to take charge from today, no relaxation was given to the ongoing indefinite bandh on its seventh day on the occasion of the Eid-ul-Fitr today.
Severe shortage of food stuff under the public distribution system was reported across the hill town and nearby areas as a result of the bandh, sources said.
The bandh also affected vehicular traffic which was reported thin on the national highway 31 A, the sources said.
Opposition parties in the hills like the CPRM, Gorkhaland Task Force and Gorkha Nirman Mukti were planning to join the stir, sources indicated.
However, another promiment opposition force All India Gorkha League, whose president Madan Tamang was brutally killed by alleged GJM activists some years ago, has decided to organise separate agitation for a separate state.