Delhi ex-legislator to be questioned on arms seizure
New Delhi:Former legislator Rambeer Shokeen will be questioned by Delhi Police in connection with the recovery of arms from a plot belonging to dreaded gangster Neeraj Bawana and his family, officials said on Friday.According to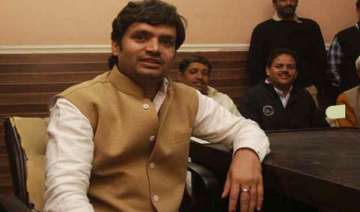 IANS
April 10, 2015 12:58 IST
New Delhi:Former legislator Rambeer Shokeen will be questioned by Delhi Police in connection with the recovery of arms from a plot belonging to dreaded gangster Neeraj Bawana and his family, officials said on Friday.

According to an official, the arms - one AK-47 and a self-loading rifle (SLR) - were recovered from a plot in west Delhi's Bawana area after Delhi Police Special Cell got information about it during Neeraj Bawana's interrogation.

Bawana was arrested on April 7 from west Delhi's Mundka area.

"An AK-47 and one SLR were hidden in a plot belonging to Neeraj Bawana, his family members or his relatives. We are yet to verify who is the real owner of the plot. As we have got inputs that Rambeer Shokeen is a close relative of Bawana and may have played a role in hiding these arms at the plot, he will be questioned soon," an official said.

"We have issued a summon to Shokeen to appear before us, but he is still absconding," the official added.

According to the official, the arms were looted from Uttarakhand Police during another dreaded criminal, Amit Bhura's escape.

Bawana's gang had played a role in the escape of Bhura, who was freed from the custody of Uttarakhand Police while he was being taken to be presented before a Baghpat court in December 2014.