Delhi government rapped for not appointing public prosecutors
New Delhi: The Delhi High Court has pulled up the city government for its failure in filing up vacancies of additional and assistant public prosecutors in district courts, saying their shortage is one of the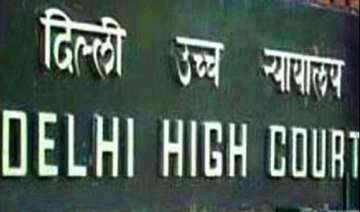 IANS
March 21, 2014 6:17 IST
New Delhi
: The Delhi High Court has pulled up the city government for its failure in filing up vacancies of additional and assistant public prosecutors in district courts, saying their shortage is one of the predominant causes for delay in disposal of criminal cases.
A division bench of Justice Kailash Gambhir and Justice Sunita Gupta also questioned how can any criminal court function in the absence of a public prosecutor in the courts even that the Supreme Court has given directions for completing the trial of all MPs and legislators facing criminal prosecution within a period of one year after the charges are framed.
'One of the predominant cause for delay in disposal of criminal case is due to shortage of public prosecutors. It is quite shocking to learn that some of the public prosecutors have been burdened to take care of the work of two criminal courts,' it said.
This 'lackadaisical and apathy" of the government in not filling up of the vacancies on the posts of assistant public prosecutors and additional public prosecutors is quite "intriguing and appalling', observed the court.
It noted that it is the statutory obligation of the state to ensure that every criminal court whether be of metropolitan magistrate or the sessions court has the assistance of an able and competent public prosecutor.
'It is also the duty of the state to ensure that the public prosecutors so appointed have all the requisite facilities for their efficient functioning to discharge their day to day duties,' it added.
The amicus curiae assisting the court informed it that the infrastructure facilities and other facilities available to them in the discharge of their day to day duties are not sufficient.
The public prosecutors have not been able to keep their files in safe custody due to the paucity of space, and insufficiency of racks or cabinets, he said.