Delhi HC Restrains Telecast Of Alleged Sex CD Of Abhishek Manu Singhvi
New Delhi, Apr 17: The Delhi High Court has restrained a media house from publishing, telecasting and broadcasting the contents of a CD allegedly pertaining to Congress leader and a leading advocate Abhishek Manu Singhvi."Till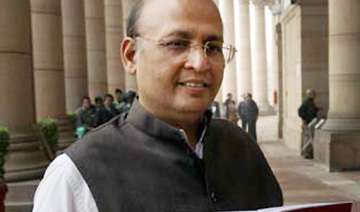 PTI
April 17, 2012 23:20 IST
New Delhi, Apr 17:
The Delhi High Court has restrained a media house from publishing, telecasting and broadcasting the contents of a CD allegedly pertaining to Congress leader and a leading advocate Abhishek Manu Singhvi.
"Till the next hearing, the defendants (the media house), their agents and all others acting for and/or on their behalf are restrained from publishing, broadcasting and disseminating or distributing in any form or any manner the content of any alleged CD or any other material as described in the plaint," Justice Reva Khetrapal said in an order on a civil suit filed by Singhvi.
He had sought a restraint on the media group from making public the contents of the alleged CD. The court has also sought response by May 21 from Aaj Tak, Headlines Today and India Today and Singhvi's former driver, alleged mastermind behind the scandal.
"Irreparable injury is likely to be caused to the reputation and goodwill of Singhvi in case the defendants are not restrained. Accordingly, issue notice to defendants (one to four) which is returnable by May 21," it said.
Singhvi alleged that the CD was 'forged, concocted, morphed and fabricated'. Any move to telecast the alleged CD would infringe the right to reputation of Singhvi, the plea said.
The High Court has restrained one Mukesh Kumar Lal and others from "publishing, broadcasting, disseminating or distributing in any form or manner the contents of any alleged CD or any other material as described in the plaint in relation to the plaintiff No. 2," senior Congress leader and Rajya Sabha MP Manu Abhishek Singhvi.
In the order of April 13, Justice Reva Khetrapal issued summons to the defendants for May 21.
Singhvi, who is the Congress national spokesperson and a senior advocate, and another lawyer, Abhimanyu Bhandari, had moved the court last week.
The court said that having heard the plaintiffs' counsel, it was of the view that "...plaintiffs have made out a prima facie case for grant of an ex-parte ad interim injunction in their favour. The balance of convenience is also tilted in favour of the plaintiffs and against the defendants."
The court observed that "irreparable injury is likely to be caused to the reputation and goodwill of the plaintiff No 2 (Singhvi) if the defendants are not restrained from disseminating the information allegedly in their possession in the form of a CD."
After receiving the order, advocate Sangeeta Sharma, advocate for Bhandari and Singhvi, issued a statement that the CD has "fabricated material."