Delhi Lt Governor approves action against AAP leader Somnath Bharti
New Delhi: The Home Department of Delhi Government today recommended to Delhi Police to take legal action against former Law Minister and AAP leader Somnath Bharti for obstructing the work of police. This was done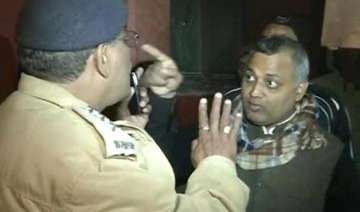 India TV News Desk
March 13, 2014 16:27 IST
New Delhi:
The Home Department of Delhi Government today recommended to Delhi Police to take legal action against former Law Minister and AAP leader Somnath Bharti for obstructing the work of police.
This was done after getting approval of the Lt Governor of Delhi.
Delhi government's home department today sent a 60-page report to Delhi Police relating to the incidents that took place in Hauz Rani in which Somnath Bharti allegedly tried to give unlawful orders to the police to raid a house, which he alleged was a den of vice.
Bharti had also made racial comments against African women during that incident and his supporters had misbehaved with some of them.