Delhi Metro to rename 9 stations to generate more revenue
New Delhi: Delhi Metro Rail Corporation (DMRC) is in the process of renaming some of its stations in order to generate more revenue. The concept was introduced by DMRC last year in July and it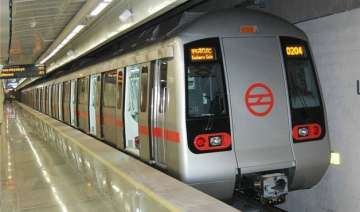 India TV News Desk
January 15, 2015 17:15 IST
New Delhi: Delhi Metro Rail Corporation (DMRC) is in the process of renaming some of its stations in order to generate more revenue. The concept was introduced by DMRC last year in July and it  had invited several private players to submit their bids  . Four stations have been bid for by private companies so far.
 "Four companies have shown interest in four stations. These are Noida City Center, Noida Sector 18, MG Road and HUDA City Centre," Delhi Metro spokesperson Anuj Dayal told a newspaper.
According to reports available, Uppal Chadha Hi-tech Developers has bid for the Noida stations, Pioneer Publicity for MG Road while Explo Media has bid for HUDA City Centre.
The names of the stations are not be changed completely. They will be semi-renamed; the way it was done earlier for some rapid metro stations in Gurgaon – for example, Cybercity station was added with a prefix IndusInd Bank and Moulsari Avenue Station is now Micromax Moulsari Avenue Station.
Similarly, nine stations have been shortlisted for semi-renaming. These are Golf Course, Botanical Garden, Vaishali, IFFCO Chowk and Guru Dronacharya besides the four mentioned above.
"They are available for semi-renaming for ten years. Plans are afoot for offering Faridabad station too," said Dayal.
The project further states that the selected bidder or licensee can only prefix or suffix their names to the station name.  The company, however, is granted advertising rights at the allotted station. It can also choose the color scheme within the allotted metro station to reflect its branding.
"The licensee shall be permitted to use and display the logo of the brand at the selected station. The company will also be entitled to use its logo or brand name at the directional network signage at these stations," added Dayal.
Most of the stations offered for semi-renaming are on the Blue and Yellow lines only.