AAP abetted farmer Gajendra Singh's suicide: Delhi Police FIR
New Delhi:  Delhi Police in its FIR  has stated that Aam Aadmi Party supporters and workers abetted the suicide of Rajasthan farmer Gajendra Singh.Gajendra Singh  committed suicide by hanging from a neem tree where the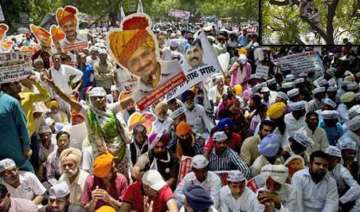 India TV News Desk
April 23, 2015 17:49 IST
New Delhi:  Delhi Police in its FIR  has stated that Aam Aadmi Party supporters and workers abetted the suicide of Rajasthan farmer Gajendra Singh.
Gajendra Singh  committed suicide by hanging from a neem tree where the  AAP's Kisan rally was going on against the central government's Land Acquisition Bill.
During the investigation, Delhi Police officials claim to have found that AAP workers stopped police from sending the farmer to Ram Manohar Lohia Hospital.
They further said that the supporters of AAP insisted that he was a party member and should not be taken in police van which resulted in considerable delay.
FIR has been registered for abetment and obstructing a public servant from discharging his duty.Officials from the  Crime Branch also visited the scene of Gajendra's suicide at Jantar Mantar in Delhi and also  checked Gajendra's phone  call records that he made just before committing suicide.
B S Bassi  said " As per our investigation his death is due to hanging (farmer suicide), post mortem report awaited which will be analyzed,"  Initial autopsy report  also suggests  death due to hanging.
"This is totally an incident where AAP workers and leaders instigated the man to commit suicide and they also did not pay heed to requests made by police," says the FIR.  
The FIR was registered under Section 306 (Abetement of suicide), 186 (Obstructing public servant in discharge of public functions) and 34 (common intention) of IPC in Parliament Street Police Station.
The two-page FIR, filed on the complaint of S S Yadav, an inspector who was on duty at the rally venue, read "Around 12:50 PM, when AAP leaders were delivering speeches, he saw some people looking upward toward a tree and clapping where a man was waving a broom. I informed the control room on wireless and asked AAP workers and others not to instigate him and help us to bring him down."
But neither the AAP leaders on stage nor the workers on the ground cooperated, the FIR alleged.  Yadav further said that he called up senior officials and again requested AAP workers to help rescue Singh and also to make way for the rescue vehicle. They continued to say that police was against AAP and was not allowing the party to go ahead with the rally.
A team of investigating officials  has been sent to Gajendra's Nangal Jhamarwada village in Dausa district of Rajasthan. Delhi Police have also taken into possession news channels recording of AAP's rally and his suicide.Suicide note' to be sent for forensic examination and handwriting verification.