Delhi Police personnel despair: Higher salary but no promotion
New Delhi: An estimated 20,729 Delhi Police personnel are drawing the salary of their senior rank but not getting the promotion they are entitled to, an RTI reply has revealed. Officers in the 80,000-strong police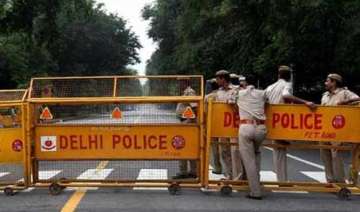 IANS
January 05, 2015 8:47 IST
New Delhi: An estimated 20,729 Delhi Police personnel are drawing the salary of their senior rank but not getting the promotion they are entitled to, an RTI reply has revealed. Officers in the 80,000-strong police force said there was widespread disaffection over the lack of timely promotions.
The sufferers are dominantly constables and head constables but also include assistant sub-inspectors, sub-inspectors as well as inspectors -- the five categories which constitute over 80 percent of the force.
A Right to Information reply says that 7,282 constables are getting the salary of head constables but remain constables though 1,347 posts of head constables are vacant.
Similarly, 8,896 head constables are drawing the salary of assistant sub inspectors (ASIs) but promotion eludes them. A total of 206 posts of ASIs are vacant in Delhi Police.
Also, 3,382 ASIs are facing the same situation. They get the salary of sub-inspectors (SIs) but are not getting promoted to that rank. A total of 1,508 posts of sub-inspectors are vacant in Delhi Police.
And 657 sub-inspectors are earning the salary of inspectors but remain sub-inspectors. Twenty-three posts of inspectors are vacant.
The scenario is no different for 512 inspectors whose salary is at par with assistant commissioners of police (ACP) but they remain inspectors. At the moment, 162 posts of ACPs remain to be filled up in Delhi Police.
A head constable at the Lajpat Nagar police station in south Delhi said: "I have been getting the salary of an assistant sub-inspector for over two years, but I am waiting for the time when I will get my promotion."
Even if there was not so much stagnation, a lower rank policeman in Delhi is likely to earn only three promotions in his entire career, one official said on the condition of anonymity.
"On the basis of seniority, a constable is promoted after 27 years of service. After becoming a head constable, he has to wait for 15-16 years to get the rank of ASI," the official said.
An ASI normally gets promoted in six years. But after becoming a sub-inspector, he waits for 17-18 agonizing years to become the inspector.
And an inspector, who heads police stations, serves over 21 years to get the rank of ACP.
Moreover, if a constable seeks promotion, he has to pass an examination -- but only after he has served five years in the force.
An inspector with 18 years of experience moaned that they were not allowed to form a union or association.
The officer said: "Senior officers do not allow us to form any union saying it will hurt discipline. But there is an union of IPS level officers."
The officer said: "We get salaries of the higher rank, but without promotion, we lose our enthusiasm."
Some disgruntled policemen said that the only good thing about the police force was that their job was more or less secured and they were entitled to pension.
One head constable said that policemen attached to IPS officers managed to get promotions by getting recommendation from seniors. But even that would take 10-12 years of service.
Delhi Police Commissioner B.S. Bassi said: "There are certain criteria for the promotion of the officers below the rank of ACP. We follow the procedure."