Delhi Police sets up police-citizen community portal
New Delhi: To enhance interaction with people of the capital and to connect them with each other, Delhi Police on Tuesday launched an online police-citizen community portal.The online police-citizen community initiative was set up for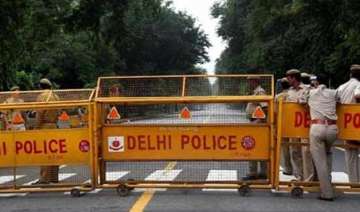 IANS
January 07, 2015 6:27 IST
New Delhi: To enhance interaction with people of the capital and to connect them with each other, Delhi Police on Tuesday launched an online police-citizen community portal.
The online police-citizen community initiative was set up for all 11 police districts in the capital.
The aim of the initiative is to connect people with each other and their district police for improving law and order.
"We were working on the initiative for some time and it started functioning from today (Tuesday)," Delhi Police spokesperson Rajan Bhagat said.
All Delhi citizens can join their respective law and order district community by visiting the website www.localcircles.com and signing up with the invitation code for their respective district.
"Each district has its own community with an invitation code," a police statement said.
For New Delhi district, people can use DELHIPOLICE as the code. For central Delhi, the code is CDELHIPOLICE, and for west Delhi, it is WDELHIPOLICE, the statement said.
Northeast Delhi has the code NEDELHIPOLICE, northwest Delhi has NWDELHIPOLICE, southeast Delhi has SEDELHIPOLICE, north Delhi has NDELHIPOLICE, south Delhi has SDELHIPOLICE, east Delhi has EDELHIPOLICE while southwest Delhi has SWDELHIPOLICE.
Outer Delhi has the code ODELHIPOLICE, the statement said.
Using these online communities, police will share crime-related information with people and provide them tips on safety.
Local police initiatives will also be shared with the people.
"Citizens will also be able to raise law and order issues in their respective district community and can seek assistance from other citizens and police," the statement said.
It said police can not only alert citizens through this community but also seek community assistance with reporting of suspicious activities in their area.