Delhi Schools To Collect Rs 1,200 Cr Through Nursery Form Sales, Says Assocham
New Delhi, Jan 5: Leading public schools in Delhi are likely to earn a revenue of over Rs 1,200 crore through the sale of nursery admission forms this year, industry body Assocham said in a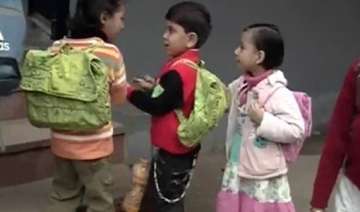 PTI
January 05, 2012 13:19 IST
New Delhi, Jan 5: Leading public schools in Delhi are likely to earn a revenue of over Rs 1,200 crore through the sale of nursery admission forms this year, industry body Assocham said in a report today.

Last year, the schools earned Rs 1,000 crore from the sale of nursery admission forms, it said.

"Parents these days maintain a budget of about Rs 15,000-20,000 only for applying in leading schools," the report, titled, 'Nursery Admission: Nightmare for parents?', said.

Nursery admission have become an anxiety-ridden experience for parents seeking to secure a seat for their tiny tots in reputed pubic schools due to the limited number of days for sale of admission forms, Assocham Secretary General D S Rawat said.

There are over 3,000 public schools in Delhi that normally sell prospectuses containing details about admission processes in their respective schools for a sum of Rs 800-1,000.

"The cost of a prospectus for nursery admission in metro centres has spiked by nearly ten times during the course of the past decade," it said, adding that the price of a prospectus for nurseries and KGs is costlier than that of Delhi University, the IIMs, IICA and IICS.

Parents are bound to buy the prospectus as these contain important details about the admission procedure along with the admission forms, it added.

"The soaring price of admission forms in most of private schools in metros has disturbed the budget of even well-to-do families. Education is being run like a commercial business enterprise these days," Rawat said.