Delhi Vivek Vihar murders solved, divorced wife of businessman's nephew and accomplices arrested
New Delhi: Delhi Police have arrested Mona, divorced wife of businessman Bajranglal Bokadia's nephew, and her accomplices on charge of murdering the businessman, his two servants and a driver.26-year-old Mona, according to police, has confessed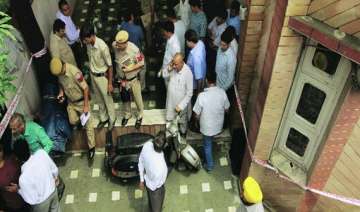 India TV News Desk
August 21, 2013 10:40 IST
New Delhi:
Delhi Police have arrested Mona, divorced wife of businessman Bajranglal Bokadia's nephew, and her accomplices on charge of murdering the businessman, his two servants and a driver.
26-year-old Mona, according to police, has confessed to the murders and her accomplices have also been nabbed.  Nearly Rs 2 crore worth jewellery and cash have been recovered from the killers, sources said.
Police teams have been sent to Vaishno Devi and other places to nab more accomplics.
Crime investigation team officers stumbled upon an incident that took place on Sunday,  the day of murders.
Gattu, the servant of Bokadia's brother-in-law Pramod, living nearby, was sent by the latter to collect duplicate car keys from the house.
The businessman's widow Pushpa was at her parental village Sujangarh in Rajasthan and had lost her Polo car keys. She rang  up her brother to send the duplicate keys.
Gattu told police he rang the bell for a long time after which a woman wearing red dress and black salwar emerged, wearing gloves. She handed him the duplicate car keys, Gattu told police.
When police showed Gattu the family photographs album, Gattu recognised the woman, who was Mona, the estranged wife of Bajranglal's nephew.
Bajranglal had been giving her monthly cash assistance, but of late had stopped giving money, Mona told police. She told police how she planned the murders.
Mona told police, on Sunday, she went with some youths to Bokadia's house, but he was not present. She returned again with the armed youths after an hour, and started beating up Bajranglal and the servants.
Bajranglal hid inside his bedroom alongwith his servants and bolted the door from inside, but the killers used drill machine to break through.
The killers then murdered Bokadia, his driver Vind Dubey, cook Bhola Singh and servant Anand. The killers used hammer on Bajranglal's head. They then slit the throats of the servants, and also smashed their heads with the hammer.
All the bodies were handed over to the deceased persons' relatives on Tuesday evening after post mortem.