Delhiites Have Voted Against Congress Misrule, Says Gadkari
New Delhi, Apr 17: Buoyed by the results in Delhi civic polls, BJP President Nitin Gadkari today attributed the victory to good governance given by the party saying it has emerged as a strong alternative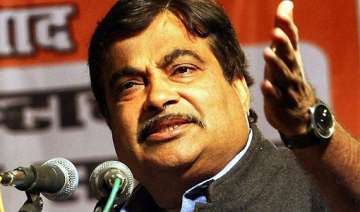 PTI
April 17, 2012 19:21 IST
New Delhi, Apr 17:
Buoyed by the results in Delhi civic polls, BJP President Nitin Gadkari today attributed the victory to good governance given by the party saying it has emerged as a strong alternative to the "corrupt" Congress.
The BJP victory in the Delhi civic polls is a result of its good governance and a clear indicator of the anti-Congress mood prevalent in the capital, Gadkari told reporters here.
"Through these elections people have given vent to their anger against the misrule of the Congress government, price rise and corruption," he said with Delhi unit chief Vijayendra Gupta and senior leaders Venkaiah Naidu and Vijay Goel by his side.
The victories of the party in Punjab, Goa, Mumbai and Delhi have strengthened the anti-Congress sentiment, Gadkari said, adding that he was confident that it would continue in the upcoming elections to the state assembly and the Lok Sabha.
He admitted that earlier the party had not performed well in Punjab, Haryana, Delhi, Rajasthan, Himachal Pradesh, Uttarakhand and Jammu and Kashmir.
"We have reviewed the situation and hope to perform well in the upcoming elections," he said.
Taking a dig at the Congress and other political outfits, Gadkari said the BJP was a democratic party and not a "private limited, public limited party or a father-son or mother-son party."
He said Delhi was the heart of India and the election results also were an indicator of the mood of the nation.
Gadkari said the election results have boosted the morale and confidence of the party which will work hard to emerge as a strong alternative to the Congress.
Asked about action against BJP rebels who contested the elections, Gadkari said that taking such decisions was the prerogative of the Delhi unit of the party.
"They would take the right decisions at the right time," he said.
In reply to a question, he said one should not link Anna Hazare's anti-corruption campaign and the elections.
"There was anger among the masses on issues like the CWG scam, the 2G scam, price rise, deterioration of law and order and corruption," he said.
"The vote for the BJP was a positive vote in favour of good governance," Gadkari said.
Gupta, the Delhi unit chief of the BJP, said that the MCD win was a clear reflection of the anti-Congress mood in the capital and a vote for the good work the BJP had done during its rule in the city corporation.
He said the Congress had performed poorly in East Delhi, where main venues of the Commonwealth Games were located.
"People have recognised that the Commonwealth Games was not about sports but corruption and the civic poll outcome is a rejection of the Congress leadership in the capital," Gupta said.
Gupta said that seven to eight leaders of the Congress, including two ministers in the Delhi government, were from the trans-Yamuna region.