Bengal celebrates Poila Baisakh
Kolkata: Devout Bengalis visited the temples of Goddess Kali at Kalighat and Dakshineshwar, and people exchanged sweets while greeting one another as West Bengal ushered in 'Poila Baisakh', the Bengali New Year, on Wednesday.With the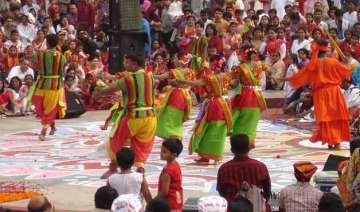 IANS
April 15, 2015 16:55 IST
Kolkata: Devout Bengalis visited the temples of Goddess Kali at Kalighat and Dakshineshwar, and people exchanged sweets while greeting one another as West Bengal ushered in 'Poila Baisakh', the Bengali New Year, on Wednesday.
With the day also marking the start of new financial year, shopkeepers and businessmen observed the 'haal khata' ceremony - closing their old account books and opening new ones.
The Bangabda or the Bengali calendar was promulgated in 1584 A.D. by Mughal emperor Akbar. Initially known as the 'Tarikh-e-Elahi', the purpose of the calendar was to glorify Akbar's ascent to the throne along with facilitating revenue collection.
Cashing in on the fervour, eateries across the city and the state have laid out lavish spreads of authentic Bengali cuisine, including the likes of mochar chop (plantain flower cutlet), kumro phul bhaaja (pumpkin flower fritters), daab chingri (jumbo prawn in green coconut) and a variety of lip-smacking traditional desserts like mishti doi (sweet yoghurt).
No celebration in a Bengali home can be complete without the mouth watering dishes and sweets. The aroma of deliciously prepared delicacies added up to the festive mood.
Smiling traders welcomed customers with sweets and new Bengali calendars, as people went on a shopping spree.
People greeted each other with 'shubho naba barsho' (happy new year) and kids exchanged greeting cards.