Indian spy's role alleged in Sri Lankan President's election defeat: Report
New Delhi: As per media reports, Sri Lanka has expelled the Colombo station chief of India's spy agency Research and Analysis Wing (RAW) for his alleged role in helping the opposition oust the then President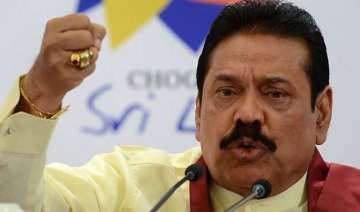 India TV News Desk
January 18, 2015 16:11 IST
New Delhi: As per media reports, Sri Lanka has expelled the Colombo station chief of India's spy agency Research and Analysis Wing (RAW) for his alleged role in helping the opposition oust the then President Mahinda Rajapaksa.
However, a spokesperson for India's external affairs ministry denied any expulsion and preferred to call it a 'routine decision.'
"Sources in both Colombo and New Delhi said India was asked to recall the agent in December for helping gather support for joint Opposition candidate Maithripala Sirisena after persuading him to ditch Rajapaksa's cabinet," the Reuters report added.
In January, Mahinda Rajapaksa conceded defeat in an election seen as the most significant Presidential poll for decades in the island nation. Rajapaksa's defeat comes at a time when there are growing concerns in India that it was losing influence in Sri Lanka because of the former president's pro-China stance.
India's concerns were turned to alarm late last year when Rajapaksa allowed two Chinese submarines to dock in Sri Lanka without warning New Delhi as he should have under a standing agreement. The docking of Chinese submarines also indicate the ever-increasing forays of the People's Liberation Army-Navy (PLA-N) in the Indian Ocean Region (IOR). An Indian security official, who monitors the region for security threats, said New Delhi had been watching Beijing's growing influence and heavy investments in Sri Lanka under Rajapaksa, who visited China seven times since becoming president in 2005.
"An Indian official said the RAW agent was recalled after complaints that he had worked with Sri Lanka's usually fractious opposition parties to agree on a joint contender for the election. Then, he was accused of facilitating meetings to encourage several lawmakers, among them Sirisena, to defect from Rajapaksa's party, the official said," the Reuters report said.
Pallewatte Gamaralalage Maithripala Yapa Sirisena (63), Sri Lanka's president-elect, was Health Minister in the Rajapaksa government and senior member of the ruling Sri Lanka Freedom Party until he broke ranks on November 21 to become the presidential candidate for a common opposition. He has pledged to abolish the executive presidency within 100 days and return the country to a Westminster-style parliamentary democracy where the police, the judiciary, and the civil service will be independent institutions.  Sirisena has vowed to abolish the controversial 18th Amendment to Sri Lanka's Constitution — which gives sweeping powers to the President in addition to removing the two-term limit on presidency.