Digvijaya Singh Alleges 'Matchfixing' By Ramdev With Ink Thrower
New Delhi, Jan 14: Congress general secretary Digvijaya Singh today stirred another hornets' nest by alleging that Swami Ramdev could have a 'matchfixing' deal with the ink thrower Kamran Siddiqui in order to garner sympathy.Singh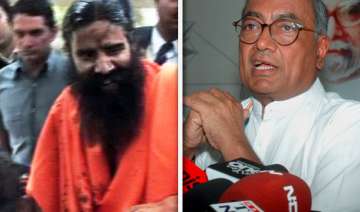 PTI
January 14, 2012 21:39 IST
New Delhi, Jan 14: Congress general secretary Digvijaya Singh today stirred another hornets' nest by alleging that Swami Ramdev could have a 'matchfixing' deal with the ink thrower Kamran Siddiqui in order to garner sympathy.

Singh told newspersons that Kamran Siddiqui was a known anti-Congress activist, and Ramdev could have used him to pour ink on him.

The feisty Congress leader said, he still believed that Ramdev was not a swami, but a crook. "I think the matchfixing was done in advance between Ramdev and Siddiqui."

Singh demanded a thorough probe into the background of the inkthrower and his NGO.

Digvijay Singh said there appeared to be a conspiracy to cause tension between communities by throwing ink at Swami Ramdev.

"There are fundamentalists in both Hindu and Muslim communities. It appears to be a conspiracy to create tension between communities. The incident needs to be thoroughly investigated", said Singh.

Meanwhile, independent Delhi MLA from Okhla Asif Mohammed Khan today told mediapersons that Kamran Siddiqui was a person with criminal backgrounds and he had several FIRs against him in at least four Delhi police stations, Jamia Nagar, C R Park, Kalkaji and New Friends Colony.

Kamran Siddiqui's Wagon R car parked outside the Constitution club, where the incident took place, had a sticker with Delhi Police's red and blue background with the name of Anti-Corruption cell written on it.

Parliamentary Affairs minister of state Harish Rawat condemned the act saying of late, a tendency has begun to get cheap publicity by committing such acts.

"The people appear to be misguided and such acts are not good for a democracy".

Asked about the need for having a deterrent law to prevent such acts of throwing ink, shoes or slapping personalities, Rawat said, it was up to the lawcourts to give deterrent punishment so that such incidents are not repeated.