Dikshit inaugurates housing complex, faces protest
New Delhi: Chief Minister Sheila Dikshit yesterday faced angry protest in Central Delhi when she had gone to Chanakyapuri area to inaugurate a housing complex for NDMC cleaning staff.Supporters of BJP MLA Karan Singh Tanwar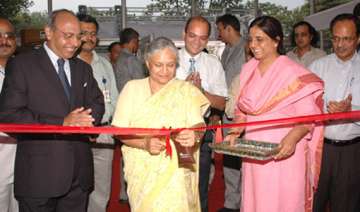 PTI
August 25, 2013 7:40 IST
New Delhi
: Chief Minister Sheila Dikshit yesterday faced angry protest in Central Delhi when she had gone to Chanakyapuri area to inaugurate a housing complex for NDMC cleaning staff.
Supporters of BJP MLA Karan Singh Tanwar shouted slogan against the Chief Minister when she visited Bapu Dham area in Chanakyapuri to inaugurate the housing complex.
Tanwar, an MLA from Cantonment area, who was also there at the function alleged that Dikshit wanted a shopping mall to come up in the area and she was opposed to the flats for NDMC employees.
The Chief Minister does not have right to inaugurate the flats as she opposed the project, Tanwar alleged.
Officials in the NDMC said that though BJP supporters disrupted the function, Dikhsit inaugurated the flats.