Ex Delhi University VC supports Dinesh Singh over FYUP
New Delhi:  Former Delhi University Vice Chancellor Deepak Pental has come out in support of current VC Dinesh Singh who has been served a show-cause notice by HRD ministry over FYUP, saying the move is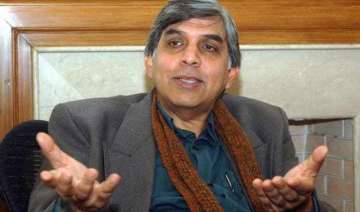 PTI
April 09, 2015 19:22 IST
New Delhi:  Former Delhi University Vice Chancellor Deepak Pental has come out in support of current VC Dinesh Singh who has been served a show-cause notice by HRD ministry over FYUP, saying the move is reflective of "autonomy" of the varsity being "compromised".  
"The manner in which the matter is being dealt by the HRD ministry is reflective of how autonomy of the university is being compromised. It is not a matter of personal support but support to an institution. Whether the FYUP was right or wrong is a different debate but serving him a show-cause notice over this is not justified," Pental told PTI.
"What was UGC doing when the programme was rolled out? If there were objections, they should have been raised then. He shouldn't be simply removed for introducing a programme, " he said.
Singh was issued a show-cause notice on March 17 after approval by President Pranab Mukherjee who is also the Visitor to the University.
Apart from inquiring about the legality of introducing the Four-Year Undergraduate Programme (FYUP), the ministry had sought Singh's reply on the opening of BTech courses under the varsity without due clearance from AICTE and the diversion of funds to the tune of Rs 172 crore meant for OBC students to buy laptops.
While the Singh has strongly defended his position on the Four year Undergraduate Programme, HRD ministry is believed to be dissatisfied with his response.
According to HRD sources, the ministry could send its recommendations to the Visitor (the President) soon about the likely action against the VC. His tenure ends in October.  Taking note of the sequence of events, Pental has also signed a letter along with 100 other people, which has been sent to the President raising concerns that the controversy could have a long-term impact on educational reforms.  
The letter, which has been signed by prominent people like ex-President, Indian National Science Academy, Krishan Lal and former Director General of Council of Scientific and Industrial Research S K Brahmachari, says, "If a university system is discouraged from introducing new ideas and models, then the nation is likely to suffer. We are thus greatly perturbed at the turn of events in the past few months whereby questions have been raised about what have been legitimately sanctioned and approved processes and programmes".  
"There is also inherent danger wherein no administration would dare undertake new initiatives and programmes aimed at reforming the education system," it says.  Singh has been at the centre of controversy ever since the FYUP was brought in, allegedly without the due clearances.  The FYUP was scrapped in June last year after the NDA government came to office and following pressure from UGC that it be done away with.
He had also been facing flak from the DU Teachers' Association (DUTA), which has been demanding his removal since last year. DUTA had also released a white paper accusing the VC of administrative and financial irregularities.