DMK men warned to keep away from Alagiri
Chennai : The DMK Wednesday threatened disciplinary action against party members if they were found to be in touch with now suspended leader M.K. Alagiri.In a statement issued here, party general secretary K. Anbazhagan said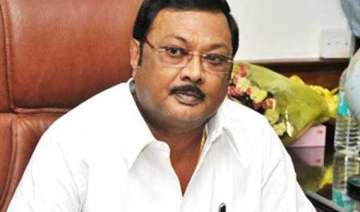 IANS
March 20, 2014 7:19 IST
Chennai :
The DMK Wednesday threatened disciplinary action against party members if they were found to be in touch with now suspended leader M.K. Alagiri.
In a statement issued here, party general secretary K. Anbazhagan said Alagiri was causing confusion by organising meetings on the pretext of meeting his supporters.
Anbazhagan asked party activists to keep away from Alagiri.
On Jan 24, the DMK suspended Alagiri, 63, for opposing his brother M.K. Stalin, 61, who is tipped for the party's top post.
Both are sons of DMK leader and former chief minister M.K. Karunanidhi.
Recently, Alagiri met Prime Minister Manmohan Singh and Bharatiya Janata Party president Rajnath Singh, creating a flutter in political circles.
Alagiri said he would discuss with his supporters and decide the formation of a new party.
Alagiri is said to be upset as none of his supporters got tickets to contest the general elections.
Anbazhagan said such actions ahead of the Lok Sabha election was creating confusion among DMK members.
Ramu Manivannan, professor of political science in the University of Madras, told IANS: "For Stalin, this election is crucial in the sense he would like to consolidate his position inside and outside the party. This will be the testing ground for the 2016 assembly elections."
He said the party would be happy if it gets even eight seats out of the 35 it contests in Tamil Nadu and Puducherry put together.
Founded in 1949 by C.N. Annadurai, the DMK is one of the oldest parties in India. The party came to power in Tamil Nadu in 1967 - 18 years after it was formed. Annadurai was the party's first chief minister.
In 1969, Annadurai died and was succeeded by Karunanidhi with the support of Tamil movie hero M.G. Ramachandran (MGR) - then with DMK - and other leaders and members of the legislative assembly.
In 1972, MGR was expelled after differences with Karunanidhi. Following his expulsion, MGR floated the AIADMK and later captured power in 1977. The DMK was out of power till 1988, but returned in 1989.
Meanwhile, Karunanidhi brought the party under his thumb and started projecting his son Stalin. The party underwent another split when Vaiko was sent out. Vaiko later floated his MDMK party.