DMK will support Food bill, but not in its present form: Karunanidhi
Chennai, Aug 10: DMK on Friday  said it would support the Food Security Bill only if the Centre brought required amendments and ensured that existing rights of Tamil Nadu were not affected by the legislation."For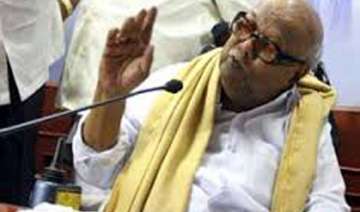 PTI
August 10, 2013 6:49 IST
Chennai, Aug 10
: DMK on Friday  said it would support the Food Security Bill only if the Centre brought required amendments and ensured that existing rights of Tamil Nadu were not affected by the legislation.
"For the state of Tamil Nadu, DMK will support the Bill only if the exisiting rights of the state are not affected even to the slightest extent," DMK chief M Karunanidhi said here.
The 90-year old DMK patriarch described the bill as a 'constructive' measure but said "the Centre should come forward to pass the legislation with urgent and necessary amendments to bring it in line with practice in the state."
In a lengthy letter to partymen explaining the pros and cons of the scheme, Karunanidhi said it was a 'constructive' idea to think about uplifting the standards of life of people at least after 60 years of the country's independence.
"Instead of forcing the states on the procedures in implementing the Bill, the Centre should come forward in allowing the states to have their liberty in implementing it", he said referring to reservations expressed by various states.
He pointed out that none of the parties had demanded the 'rollback' of the bill and only wanted amendments.
Referring to Tamil Nadu Chief Minister's Jayalalithaa's statement that the bill would only be a 'bane' for Tamil Nadu and not a 'boon', Karunanidhi said "if she is firm in that, she should have taken a stand that the state will not accept the Bill just like her announcement opposing FDI in multi-brand retail".
However, Jayalalithaa has herself only sought modifications in the Bill, he said.
DMK was firm in its stand that due to the implementation of the Food Security Act, the existing public distribution system in the state should not be affected, he said.
Besides, it should save the interests of farmers and there should not be any harm to the rights' of the state.
However, he said the benefits of the Bill should not be lost.
DMK had, along with AIADMK, opposed the bill in when it was introduced in the Lok Sabha. DMK parliamentary party leader T.R. Baalu had said the party would move amendments.