Downpour cools Delhi
New Delhi, Aug 5: Rain in the capital on Monday afternoon brought relief to the people from the muggy weather but traffic snarls due to water-logging on major roads hit commuters."We have received several complaints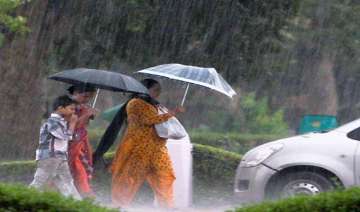 IANS
August 05, 2013 20:19 IST
New Delhi, Aug 5:
Rain in the capital on Monday afternoon brought relief to the people from the muggy weather but traffic snarls due to water-logging on major roads hit commuters.
"We have received several complaints of roads getting clogged due to overflooding of drains," a Delhi Traffic Police officer told IANS.
Roads in Kalkaji, Nehru Nagar, Maharani Bagh, IIT flyover and Ring Road in south Delhi, Rajghat to Delhi Gate in central Delhi and Naraina in west Delhi resembled small rivulets after the rain.
Though the rain brought relief from the humidity, the maximum and minimum temperatures settled a notch above the season average at 34.3 and 27.7 degrees Celsius respectively.
"The skies will remain cloudy with rain and thunderstorm expected Tuesday in some parts of the city," said an India Meteorological Department (IMD) official.
Humidity wavered between a high and low of 91 and 67 percent respectively.
"The rain was so heavy that I got stuck at Connaught Place (in central Delhi) for an hour," said Reema Tiwari, who was out shopping.
Tuesday's maximum and minimum temperatures are likely to hover around 32 and 27 degrees Celsius respectively.
The capital recorded 8.1 mm of rain since 8.30 a.m.
Sunday's maximum temperature settled two notches above average at 35.8 degrees Celsius while the minimum temperature settled one notch above average at 27.5 degrees.