DRDO staff 'shocked' by its chief Avinash Chander's removal
New Delhi: The sudden termination of the services of DRDO chief Avinash Chander has not gone down well in the premier defence research agency where many feel the issue has been handled poorly by the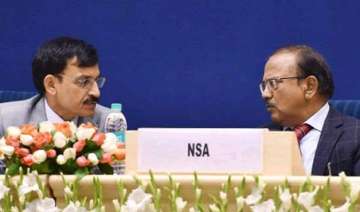 PTI
January 14, 2015 23:25 IST
New Delhi: The sudden termination of the services of DRDO chief Avinash Chander has not gone down well in the premier defence research agency where many feel the issue has been handled poorly by the government.
Defence Research and Development Organization officials who spoke on the condition of anonymity said they learnt about Chander's exit through the media on Tuesday evening.
An official order landed in the DRDO office only post lunch on Wednesday.
"The order was approved by the ACC Monday but it reached only today," one DRDO official told IANS.
The Appointments Committee of the Cabinet approved the termination of Chander's contract with effect from Jan 31.
He had taken over the DRDO in May 2013 — when the previous Congress-led UPA coalition was in power — with the rider that he will retain the post on contract after retirement.
Chander retired Nov 30, 2014 but went on contract for 18 months till May 31, 2016.
He himself was not told about his sacking and learnt of it through the media.
A notification was put up on the website of the Department of Personnel and Training (DoPT) but removed later for unexplained reasons.
The official said some in the DRDO first thought the development was a hoax.
"We thought it is a hoax because there was no intimation. Things became clear only today," he said.
Officials said while delays do occur in communications, especially when an order is sent by hand, there was a sense of shock among the scientists and others in DRDO.
"We are shocked. It is most unexpected," said another official.
Defence minister Manohar Parikkar insisted Wednesday that there was no controversy.
"I recommended that a person on contract should not be occupying such a senior position. This senior position should be filled by other eligible senior persons. There is no controversy here.
"I believe DRDO should be headed by a younger man... I had proposed for his removal and they have agreed to it," he told reporters.
Chander, widely known as the man behind the Agni series of missiles, refused to talk to the media Wednesday.
Another DRDO official felt it was "rather poor handling" of the whole issue by the government.
"Why was the notification put online before being communicated to DRDO? I think DoPT could have handled it better."
This official added that the way Chander was asked to go gave an impression that scientists were not respected.
"What kind of impression does it give? That scientists are not respected, that they are below politicians and bureaucracy," the official said.
Some of his colleagues were unhappy that Chander came to know about his exit through the media.