Driver loses leg in Noida van collision
Noida, Apr 25: The driver of a coal storage van, going from Noida to Delhi, lost his leg, after his van rammed into a stationary container trawler on the Mahamaya flyover this morning.At around 1:30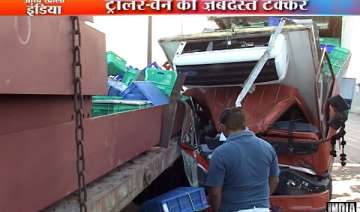 India TV News Desk
April 25, 2012 12:45 IST
Noida, Apr 25:
The driver of a coal storage van, going from Noida to Delhi, lost his leg, after his van rammed into a stationary container trawler on the Mahamaya flyover this morning.
At around 1:30 am, the container trawler lost its balance and went up a divider.
Around 5 am, the cold storage van which was being driven at a fast speed, rammed the stationary trawler. The van was badly damaged. The driver was rushed to hospital with one of his legs severed.