Driver's daughter in Haryana gets US university scholarship
Chandigarh, Aug 5: A daughter of a driver employed with the Haryana government has bagged a scholarship of USD 50,000 for pursuing a PhD in Chemistry from University of South Carolina, USA.Poonam Dhull (24), daughter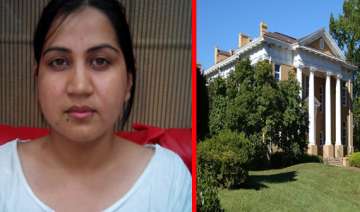 PTI
August 05, 2013 7:55 IST
Chandigarh, Aug 5
: A daughter of a driver employed with the Haryana government has bagged a scholarship of USD 50,000 for pursuing a PhD in Chemistry from University of South Carolina, USA.
Poonam Dhull (24), daughter of Sureshpal, working as a driver in the Public Relations Department, hails from Bhana village in Kaithal district.
The young woman completed her senior secondary from OSDAV Senior Secondary School, Kaithal and pursued her B.Sc. (Medical) and M.Sc. In Chemistry from Panjab University, Chandigarh, before taking up research work on "Structure-activity relationships in a-fluorohydrins and their derivatives: A structural investigation."