Drug haul of over Rs one cr at Kolkata airport
Kolkata : Two persons were arrested yesterday from the Netaji Subhas Chandra Bose International Airport here for attempting to smuggle out drugs worth Rs 1.10 crore, customs officers said.The duo, identified as Md Ashif Aslam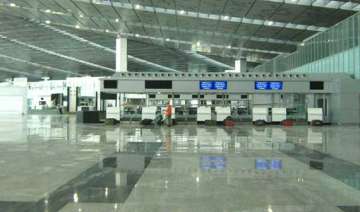 PTI
March 05, 2014 11:55 IST
Kolkata :
Two persons were arrested yesterday from the Netaji Subhas Chandra Bose International Airport here for attempting to smuggle out drugs worth Rs 1.10 crore, customs officers said.
The duo, identified as Md Ashif Aslam and Meyazuddin Sheikh had arrived from Mumbai last evening on a domestic flight and were bound for Kunming in China on a China Eastern Airlines flight from the NSCBI Airport this morning, officers said.
During a routine check of their bags, a powdered substance weighing 85.8 kgs was found. A closer examination later on revealed that the substance was a banned stimulant made from Khat plants, usually grown along the coast of South and East Africa, the officers said.
The two have been arrested, they added.