Drunk Jharkhand Police Sub Inspector Creates Scene In Dhanbad
Dhanbad, Jan 10: Sub-inspector Hare Ram Singh was dead drunk on Sunday at Randhir Verma Chowk here and created quite a scene. He lay in the middle of the road, and kicked his legs on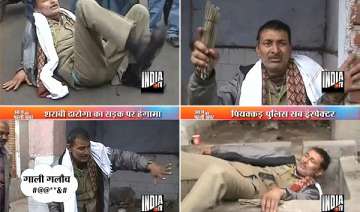 India TV News Desk
January 10, 2012 10:41 IST
Dhanbad, Jan 10: Sub-inspector Hare Ram Singh was dead drunk on Sunday at Randhir Verma Chowk here and created quite a scene.

He lay in the middle of the road, and kicked his legs on the asphalt.

As a crowd of onlookers gathered, two mediapersons tried to give him support to take him to a safer place.

Straggling up to a garbage corner, he went there and sat brooding. Twice he fell into the garbage bin.

For nearly half an hour, the police officer hurled a strong of abuses at the gawkers.

Local residents said, this was a normal routine for Sub-Inspector Verma, and he had been doing this earlier too.