#NepalDevastated: Earthquake kills six soldiers
Kathmandu: The earthquake in Nepal has killed six soldiers, the army announced on Sunday.Army spokesman Gen Jagadish Pokhrel told the media that 90 percent "of our manpower is engaged in rescue and search operations".Some of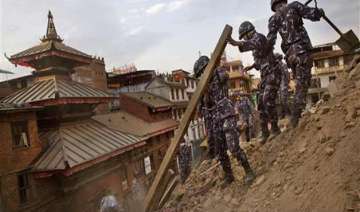 IANS
26 Apr 2015, 20:26:36 PM IST
Kathmandu: The earthquake in Nepal has killed six soldiers, the army announced on Sunday.
Army spokesman Gen Jagadish Pokhrel told the media that 90 percent "of our manpower is engaged in rescue and search operations".
Some of the areas hit hard by Saturday's devastating earthquake are home to Gorkhas, who form part of the Indian, Nepalese and British armies.
Fresh earthquake measuring 6.9 on the Richter scale shook Nepal today causing fresh panic as rescuers pulled out bodies from debris, a day after a 7.9 magnitude earthquake left over 2,300 dead and forced tens of thousands to spend the night on the streets.
The Home Ministry put the fatalities from Saturday's powerful quake at 2,309 and said another 5,850 people were injured. It is the worst quake to hit Nepal after one in 1934 killed some 8,500 people.