EC Cracks The Whip After India TV Sting Operation
New Delhi, Jan 28: The Election Commission on Saturday directed seven district election officers of Uttar Pradesh to register criminal cases against 11 party candidates, who had claimed that they taken money from corporate houses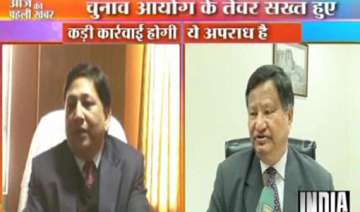 PTI
January 28, 2012 21:45 IST
New Delhi, Jan 28: The Election Commission on Saturday directed seven district election officers of Uttar Pradesh to register criminal cases against 11 party candidates, who had claimed that they taken money from corporate houses for fighting the poll as quid-pro-quo to serve their interests after getting elected by organising groups of "vested interests" in the Assembly.

The Commission, besides alerting the Investigation wing of the Income-Tax office in Lucknow about the claim, also called for an action taken report from U.P. Chief Electoral Officer by Sunday.
The Commission, which took suo motu action, following a "sting operation" conducted by India TV , which was telecast on January 26, was shocked to hear from some of the prospective candidates that they spend between Rs. one to three crores, which includes expense in the name of dummy candidates, liquor for the electors and other expenses, though the maximum expense allowed in a Assembly poll as per rule is only around Rs.16 lakh.

Acting tough on the issue, the Commission directed the election officers in charge of the districts, where the 11 persons (supposed to be candidates) hail from, to file criminal cases against them.

As the incident amounted to taking bribe, the persons, if convicted by the court, might have to spend up to one year in jail or pay fine. Besides they might face disqualification for continuing as the MLA, if elected, and also barred from contesting any poll in future, the EC warned. 
The Commission, which went through the transcript of the sting - "Operation MLA", also appealed to the political parties, to which the "candidates' allegedly belonged to, inquire into the matter and advise all their functionaries to refrain from such activities.

"The Commission has reiterated its stand that such bribery under the IPC should be made a cognizable offence. The Commission has once again approached the government to pass an ordinance to make suitable changes in the law, as the matter is quite serious", the EC said.

The Commission directed all the poll officials in U.P. to deal with firmly any incident of "bribe" taken by the candidates or offered. The entire liquor production, sale and distribution should be monitored everyday and any illicit liquor seized.

Movement of unaccounted cash should be monitored and seized.

"If any person raises funds in cash as mentioned in the sting operation, the Income Tax department has to be alerted to deal with such donors firmly and investigate about the source of such bribe money," the Commission directed.