EC requests HC to dismisses AIADMK's plea against its order
Chennai: The ECI yesterday requested the Madras High Court to dismiss a petition filed by AIADMK General Secretary J Jayalalithaa challenging the order of the Commission to cover pictures of two leaves on small buses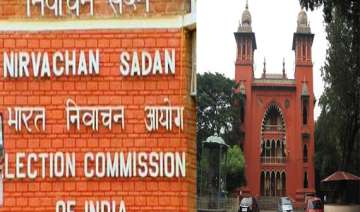 PTI
March 20, 2014 7:55 IST
Chennai
: The ECI yesterday requested the Madras High Court to dismiss a petition filed by AIADMK General Secretary J Jayalalithaa challenging the order of the Commission to cover pictures of two leaves on small buses as it resembled the party's symbol.
The arguments of AIADMK that whether the election symbols of rising sun, hand, fruits and flowers can be covered by the Commission are misplaced as those symbols are not imprinted on public property using public money, the counsel for ECI said.
When the AIADMK itself had said in its petition that there was no resemblance to the pictures on the buses with the party symbol, how can it object the order. The petition is liable to be dismissed, the counsel said.  
'It is immaterial whether the paintings on buses is an exact representation of the two leaves symbol,' the ECI contended and said that it was a matter of perception.
To the submissions made in the writ petition that AIADMK was not given an opportunity before issuing the order, the Commission said there was no question of granting an opportunity to a political party as the matter is between the Election Commission and the state government.
Directions were issued to the State Transport Department and not to the political party. When the Commission was exercising the constitutional power in implementing the Model Code of Conduct, it was not possible to give opportunity to every political party at every stage, the counsel said.  
While describing that the decision of the Commission is well considered and in the interest of free and fair elections and directions issued by it is one relating to elections and thus an electoral matter, the counsel said the petitioner is barred from questioning the order of it under 329(b) of Constitution of India and the petition is liable to be dismissed and prayed the court to dismiss it.