EDMC workers strike continues; burn effigies of Modi, Kejriwal
New Delhi: The ongoing stir by sanitation workers of cash-strapped East Delhi Municipal Corporation continued on Tuesday with scores of workers assembled at Jheel Chowk here and pressed for their demands.The agitating employees, who went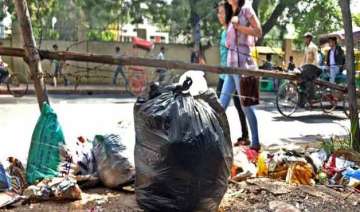 PTI
April 01, 2015 8:36 IST
New Delhi: The ongoing stir by sanitation workers of cash-strapped East Delhi Municipal Corporation continued on Tuesday with scores of workers assembled at Jheel Chowk here and pressed for their demands.
The agitating employees, who went on strike on Friday, also torched effigies of Prime Minister Narendra Modi and Delhi Chief Minister Arvind Kejriwal, the EDMC said.
Demanding release of salaries, several sanitation workers of EDMC have gone on strike called by the Delhi Pradesh Safai Karmachari Union. The stir has led to heaps of garbage left strewn in the streets in east Delhi.
EDMC employs over 12,000 safai karmacharis, both in regular and contractual capacities.
Speaking on yesterday's stir, Congress councillor and Leader of Opposition in the BJP-led EDMC said, that "on one hand the PM Modi talks of 'Swachch Bharat Mission' and on the other hand sanitation workers have not been paid their salaries or arrears."
She further alleged that ever since the installation of the BJP government at the Centre and the AAP government in Delhi, "No one is thinking about the common man."
Incidentally, the East Delhi Commissioner Amit Yadav on Saturday had said that the corporation (EDMC) had released the salaries of the sanitation workers due for February, and had asked the them to resume their jobs.
The Commissioner Yadav had said, was currently under a huge debt has accepted the demand for paying of due salaries, but we cannot "bow to other demands of the workers".
The EDMC has been running into losses worth several hundred crores and has been seeking funds from both Delhi government and the Centre to come out of the red but of no avail.
Kejriwal on March 25 had suggested handing over the charge of the civic bodies to the Delhi government, which invited sharp reactions from the senior leaders of the three municipal corporations.