Embarassed BJP Decides Not To Give Ticket To Tainted Ex-Minister Kushwaha
New Delhi, Jan 4: An apparently embarrassed BJP today said it will not give ticket to tainted former Uttar Pradesh Minister Babu Singh Khushwaha, against whom CBI conducted raids today in the NRHM scam case,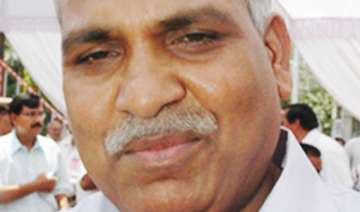 PTI
January 04, 2012 17:35 IST
New Delhi, Jan 4: An apparently embarrassed BJP today said it will not give ticket to tainted former Uttar Pradesh Minister Babu Singh Khushwaha, against whom CBI conducted raids today in the NRHM scam case, and made it clear that he will not be its star campaigner.

The party's announcement came at a press conference amidst reports that senior leaders including L K Advani had expressed unhappiness over the induction of Khushwaha, an OBC leader who was sacked by Chief Minister Mayawati at the height of the scam and was expelled from the party in November.

Sources said senior leaders were upset over Khushwaha's induction and felt it could have been avoided.

However, the party decided to go on the offensive instead of repeating a D P Yadav-like episode when it admitted the Western UP leader ahead of the 2004 elections only to remove him within days.

During his tenure as state Family Welfare Minister two chief medical officers were murdered, a deputy CMO died mysteriously in Jail and fraud worth thousands of crores was detected in the implementation of the National Rural Health Mission in Uttar Pradesh.

"We induct various people into the party ahead of elections. It is not necessary we give them a ticket. In this case, the party is not considering granting him a ticket," said BJP vice president Mukhtar Abbas Naqvi.

He faced a barrage of questions on the admission of Khushwaha into the party yesterday alongwith another former minister Badshah Singh, who was also sacked by Mayawati in October after he was indicted by Lokayukta N K Mehrotra in a land grab case To a question, Naqvi dismissed the possibility of BJP making Khushwaha a star campaigner in the forthcoming assembly elections in the state.

In reply to another question whether leaders like Advani were unhappy over his induction, he said "the decision was taken jointly and the party is together on the issue."

As it came under attack from rivals for inducting him, the party put up a brave face and attacked the Congress for "selection action" in corruption case and accused the UPA government of being "hand-in-glove" with BSP in "misusing" the CBI for political ends.

"Congress and BSP have entered into a dangerous alliance in Uttar Pradesh and it has been scripted by Rahul Gandhi and Digvijay Singh personally...The BSP and Congress have entered into a mega deal," Naqvi said.

Maintaining that those who are accused of any crime must be punished, he sought to raise the issues of Taj Corridor, Adarsh housing, 2G and others scams and said these issues were either sorted out by the CBI or the agency decided to put them on hold.

"We would like to ask the government as why the CBI became so active on this case so suddenly... We will like to ask the central government on the action taken by CBI in Taj Corridor, 2G, Adarsh housing society scam and other cases in which not even FIRs have been registered by it," he said.

Naqvi said BJP is not trying to shield any accused but would like to question the government's intention in this case, saying that no action was being taken against kingpins in the case.

When asked whether BJP has not become impure by joining of Khushwaha, he said, "Ganga will be cleaned through a cleansing campaign".

Meanwhile, resentment was also brewing in the Uttar Pradesh unit of BJP over Khushwaha joining the party with state executive members today demanding his immediate removal due to the corruption cases against him.

"Khushwaha is the most corrupt person and was a close aide of Mayawati. He has reached a milestone as far as corruption is concerned and the party workers cannot tolerate such a person...he should be immediately removed from the party," BJP state executive member and former state minister I P Singh told PTI today.

He said that BJP state president Surya Pratap Shahi should also be relieved from the post for inducting Kushwaha as he has made a mistake for which he cannot be forgiven.