2 security personnel killed in encounter with militants in Baramulla
Srinagar: A fierce gunbattle broke out between security forces and terrorists in Baramulla district of Jammu and Kashmir today morning.A police official and a jawan of Indian Army were killed in the encounter.Jawans of Indian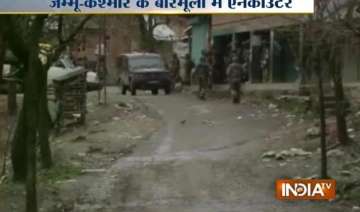 India TV News Desk
April 02, 2015 19:04 IST
Srinagar: A fierce gunbattle broke out between security forces and terrorists in Baramulla district of Jammu and Kashmir today morning.
A police official and a jawan of Indian Army were killed in the encounter.
Jawans of Indian Army and the Jammu and Kashmir Police have cordoned off an area at Hardushoora village in Tangmarg town after receiving inputs about presence of two terrorists in the region. 
An army official said that acting on a tip off, a joint team of Army's 29 Rajputana Rifles and SOG launched the search operations at Hardushoora village.
No casualties have been reported in the incident so far, the official said, adding intermittent exchange of firing was going on between the two sides.