Enforcement Inspector of JDA arrested for taking bribe
Jaipur: An Enforcement Inspector of Jaipur Development Authority was yesterday arrested for allegedly accepting a bribe of Rs 30,000 for not initiating action against an under-construction building in Jamdoli area here.  The accused inspector Abdul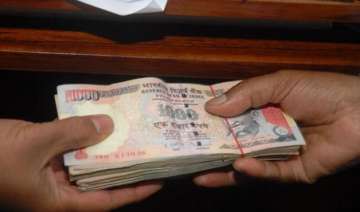 PTI
April 16, 2015 10:07 IST
Jaipur: An Enforcement Inspector of Jaipur Development Authority was yesterday arrested for allegedly accepting a bribe of Rs 30,000 for not initiating action against an under-construction building in Jamdoli area here.  The accused inspector Abdul Nasir asked the property owner to stop the construction work saying that it was illegal construction.
He then demanded Rs 90,000 for not razing the building, spokesperson of the anti-corruption bureau said.  "Nasir along with a middleman Girraj today went to the site and took the first installment of Rs 30,000. Nasir took the money and handed over to Girraj." the spokesperson said.  By then the ACB team reached there as per the plan and caught Nasir but Girraj managed to escape from there with the bribe amount, he added.
The accused inspector has been arrested and the middleman is being searched.