Enquiry demanded into discovery of human skulls in Manipur
Imphal:  A civil rights group has demanded setting up of an enquiry commission and a special investigation team to probe the recent discovery of eight human skulls and skeletons from an abandoned school complex.  "We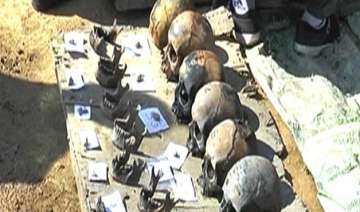 PTI
January 05, 2015 13:48 IST
Imphal:  A civil rights group has demanded setting up of an enquiry commission and a special investigation team to probe the recent discovery of eight human skulls and skeletons from an abandoned school complex.  "We want a thorough investigation into the discovery of eight human skulls and several skeletons from Tombisana High School campus here," said Khaidem Mani, secretary of Senior Citizens for Society, Manipur.
He said the government should constitute a three-member enquiry commission headed by a retired judge for investigating the matter.Based on the findings of the commission, a SIT headed by an Inspector General of Police or DIG and comprising experts from different fields should probe it further, Mani, a well-known human rights activist in North East, said.  
Mani alleged that around 20 people have "disappeared" since 1980 till date and the Armed Forces Special Powers (Assam and Manipur) Act, 1958 was imposed in entire Manipur the same year.
Eight human skulls and several skeletons were found in the old school complex on December 26 last during construction work. The school was occupied by some central paramilitary forces during the height of insurgent activities in the state in early 1980s, officials said.