Equilibrium in Indo-Pak ties not possible sans dialogue: Kasuri
Jaipur: Equilibrium in relations between India and Pakistan is difficult to achieve without an impetus for constant dialogue between the two countries, former Pakistani foreign minister Khurshid Mahmud Kasuri has said.  India and Pakistan do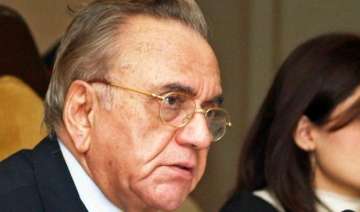 PTI
January 22, 2015 17:04 IST
Jaipur: Equilibrium in relations between India and Pakistan is difficult to achieve without an impetus for constant dialogue between the two countries, former Pakistani foreign minister Khurshid Mahmud Kasuri has said.  India and Pakistan do not share a "normal relationship like that of Canada and Germany or of New Zealand and Panama.  Though a pessimist approach will not be helpful, but I think Indo-Pak relations will never be on an equilibrium.  "They will either go up or go down, so we need a strong impetus for constant dialogue to resolve the problems between the two countries," Kasuri said on the sidelines of the ongoing Jaipur Literature festival.
India and Pakistan had been very near to a framework 'four-point Kashmir agreement, Kasuri reveals in his upcoming book "Neither Hawk, nor Dove".
Kasuri, who served as Pakistan's foreign minister from 2002 to 2007, is presently a senior leader in cricketer turned politician Imran Khan's Pakistan Tehreek-e-Insaf party.  "The book has a chapter on the four-point Kashmir framework. We were very near to the agreement," he said talking about peace negotiations between the two countries.  "I had seen the negotiations on the framework from close quarters and witnessed the exchange of drafts. I feel it was my responsibility to put on record... I feel unburdened now," he added.
Stating that his book would provide details that have not been given by anybody, Kasuri said he is lucky that President Musharraf had not yet penned a book otherwise his book would have lost value.
"Manmohan Singh is one person who can write  bout it but hopefully he will not," Kasuri said.
Kasuri said that former media adviser Sanjaya Baru's controversial account of his days in the PMO supports the text of his book in an authenticated manner.  "I do not want to comment upon India's domestic politics.  It is not appropriate for me to do but everything that he says authenticates what I have write in my book...not just on Kashmir but also on Siachen," he said.
Kasuri, who was privy to negotiations which went on for three years between Atal Bihari Vajpayee and Gen Pervez Musharraf, said, "Things were not done in a jiffy. Musharraf went to Agra, Indian media went viral. Both sides wanted peace, President Musharraf wanted peace, Vajpayee wanted peace. There can be twenty reasons why it could not be done but that doesn't mean no homework was done.  "Papers used to come from here to there and vice versa.  Three years, every colon, comma, what does it mean...that we have looked at it from every conceivable option. Now if they want to put a Modi-Nawaz tag they can do it but you cannot reinvent the deal."
Speaking about the rationale behind bringing out his book, Kasuri said, "There were lot of cobwebs and confused thoughts so I felt I should clarify them by putting them on record." The former Pakistani minister said that his country's government was optimistic about improving relations with India.
"...Public opinion is very important for government. By and large ordinary Pakistanis wish to improve the relations with India but we cannot the ignore the fact that there are also hardliners. They get strengthened in absence of talks, so constant dialogue is the only hope," he said.  Earlier, Kasuri was in conversation with Ahmed Rashid, Anatol Lieven, G Parthsarthy and Suhasini Haider in a session titled "Descent into Chaos Pakistan on the brink".