Expelled CPI-M leader holds talks with pro-Dalit outfits
Kolkata : Expelled CPI-M leader Abdur Rezzak Mollah Sunday said he was hopeful pro-Dalit outfits would join him.Mollah, an undefeated legislator since 1972, was expelled by the Communist Party of India-Marxist for "anti-party activities" days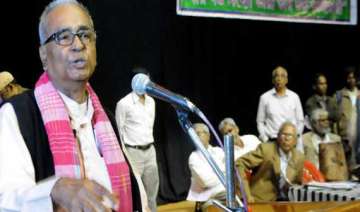 IANS
March 03, 2014 8:55 IST
Kolkata :
Expelled CPI-M leader Abdur Rezzak Mollah Sunday said he was hopeful pro-Dalit outfits would join him.
Mollah, an undefeated legislator since 1972, was expelled by the Communist Party of India-Marxist for "anti-party activities" days after he floated "Social Justice Forum" -- a pro-Dalit and minority outfit which he claimed would contest the 2016 West Bengal Assembly polls.
"I was in Delhi for three days and held talks with several similar outfits. The talks have been fruitful and they have welcomed my decision to contest the polls," said Mollah after holding discussions with some pro-Dalit outfits in Delhi.
He met representatives of Bahujan Mukti Party, Social Democratic Party of India and Welfare Party of India, among others.
Mollah who has resolved to install a Dalit chief minister in West Bengal, said he would be going to Kerala soon to hold talks with parties which might extend support to him.
"I have vowed to fight for the cause of Dalits and minorities and I will be visiting several places, including Kerala, to hold talks with organisations and parties which are endeavouring to bring in social justice in the country," he added.