Eye care institute performs 20,000 corneal transplants
Hyderabad: A premier eye care institute here has claimed to have performed a record 20,000 corneal transplants across its network."L V Prasad Eye Institute (LVPEI) has created history in the field of corneal transplantation by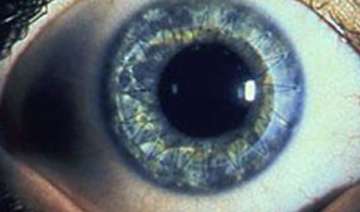 PTI
January 15, 2015 11:13 IST
Hyderabad: A premier eye care institute here has claimed to have performed a record 20,000 corneal transplants across its network.
"L V Prasad Eye Institute (LVPEI) has created history in the field of corneal transplantation by becoming the first institute in the world to achieve 20,000 corneal transplants across its network," a release from the institute said.  
"Significantly, the world record was achieved in the 25th year of establishment of LVPEI's Ramayamma International Eye Bank, the largest eye bank in Asia," it said.  
Felicitating the Cornea and Eye Bank teams yesterday, Andhra Pradesh and Telangana Governor ESL Narasimhan lauded their efforts and commended LVPEI's commitment to quality eye care, it said.
He wanted all hospitals to emulate LVPEI's model of affordable and low cost healthcare within the reach of common man.
The Governor asked the health ministers of Telangana and Andhra Pradesh to convene an urgent meeting of all corporate hospitals to arrive at a solution on how the LVPEI model of low cost, affordable healthcare for common man can be carried forward, the release said.
"We have a concentration of hospitals in urban pockets and lack of proper medical facilities for rural populace.  
These hospitals, instead of opening more branches in the cities, should move to rural areas," the release quoted him as saying.