Facebook pays tribute to AIIMS lady doctor who committed suicide due to gay husband
New Delhi: Social networking website Facebook is paying special tribute to 31-year-old AIIMS lady doctor, Priya Vedi, who committed suicide after her husband revealed that he is a gay. The IT team of Facebook turned her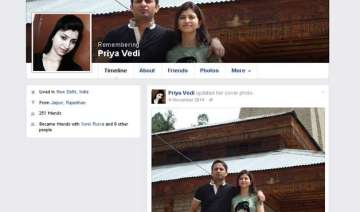 India TV News Desk
April 21, 2015 10:06 IST
New Delhi: Social networking website Facebook is paying special tribute to 31-year-old AIIMS lady doctor, Priya Vedi, who committed suicide after her husband revealed that he is a gay. 
The IT team of Facebook turned her profile page into a tribute page by adding prefix 'Remembering' before the profile name of Priya Vedi. The page now read: 'Remembering Priya Vedi'.
Facebbok has also removed the suicide note from her timeline. The note, which was posted by Priya before committing suicide, was shared nearly 3,500 times when IT team of Facebook removed it from her profile page.
Priya blamed her gay husband Dr Kamal Vedi in the note reading her husband's sexual orientation had led to the souring of the relationship between the doctor couple.
Kamal (34), who is a dermatologist at AIIMS, was yesterday remanded in 14-days' judicial custody by a local court.
According to police, the couple got married five years ago and soon after the marriage, Priya came to know that her husband was gay.