Fast & Furious 7: 2.6 million downloads, India, Pak tops the chart
India is not yet a box-office goldmine for Hollywood. A main reason for this is attributed to the piracy issue.The recently released Hollywood movie, Fast & Furious 7, which was more a tribute to the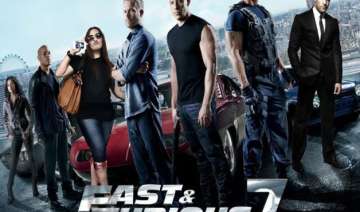 India TV News Desk
April 22, 2015 12:27 IST
India is not yet a box-office goldmine for Hollywood. A main reason for this is attributed to the piracy issue.
The recently released Hollywood movie, Fast & Furious 7, which was more a tribute to the late star Paul Walker, has made its way to India through Internet and  within five days it was downloaded so many times in India that it topped the piracy charts.
Out of many countries where the movie was downloaded, India leads the pack. A report by piracy-tracking firm Excipio in Variety, said the film was downloaded 2.59 million times worldwide on torrent networks within five days of its release.
Out of these more than 22 per cent downloading was done by India alone equalling to 5,78,000 downloads.
The neighbouring countries have also been no less in the rat race as India was followed by the estranged neighbour Pakistan in downloading F&F  3,21,000 times and the other one China 2,89,000 times.
India had been in the top three downloaders of yet another famous TV programme – Game of Thrones' latest season. Four episodes of the programme got leaked in two days before it was to premiere on HBO. According to a firm TorrentFreak, in those two days, the four episodes of the programme became the most downloaded files globally. Interestingly, India was third in this race, behind only UK and US in downloading. India registered a whooping 155% rise in downloading in this period as compared to the worldwide rise of 45%.
On research it came out that there are several reasons due to which piracy figures are too high in India. One reason out of all was that Indians are made to wait for their favourite western shows and movies which encourage piracy. For example, till last year, India had to wait for a week before it could watch the latest episodes of Game of Thrones.
As per a report of Hindustan Times, Monica Tata, managing director of HBO said, "For Season 5, fans can watch the latest episodes at the same time as the US premiere, ad-free. We believe the move to a simulcast airing of GoT in 170 countries is going to curb piracy."
However, there had been many who were either not aware of the simultaneous telecast or were not interested to shell out extra charges of the HD.
Over all, India ranks sixth in the world when it comes to downloading Oscar-nominated movies, most of which are released here months after their US dates.
Other reasons identified for the significant rise of downloads in India are the soaring internet speed and the censorship which makes downloading more common.