Federal Structure Of Constitution Cannot Be Compromised : TC
Kolkata, Jan 1: Maintaining its hardline stand on the Lokayukta provision of the Lokpal Bill, Trinamool Congress today said it wanted a strong anti-graft ombudsman, but not by compromising on the federal structure of the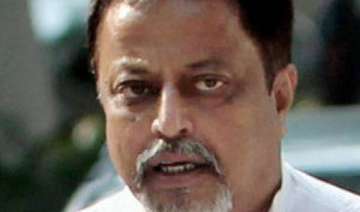 PTI
January 01, 2012 18:05 IST
Kolkata, Jan 1: Maintaining its hardline stand on the Lokayukta provision of the Lokpal Bill, Trinamool Congress today said it wanted a strong anti-graft ombudsman, but not by compromising on the federal structure of the Constitution. 

"Trinamool Congress is not going to compromise on the federal structure of the Constituion and amendments put forward by the party have to be accepted," Trinamool Congress general secretary and MP Mukul Roy told PTI. 

He was reacting to yesterday's statement by Home Minister P Chidambaram in Mumbai that Trinamool's demand for total deletion of the Lokayukta provision might not be easy to meet and that the government might accept one or two of its amendments.

Noting that India is a Union of states, Roy said, the Central List, Concurrent List and the State List have clearly defined subjects and there were no grey areas in them. 

Roy claimed that party MPs had raised objections on the Lokayuta provision of the Lokpal Bill because there was an undrerstanding with the government that Trinamool Congress's suggestions would be taken care of before the bill was moved in the Rajya Sabha.

"This assurance was not kept. Mamata's voice has found an echo in the opinions expressed by other chief ministers of the country," he said.

Roy said the manner in which the Rajya Sabha was adjourned sine die did not augur well for democracy.

"The government should have faced the voting," he felt.

Maintaining that Lokpal was not an isolated issue, Roy felt it was not proper to concentrate power in the Centre's hands and the state's rights should be 'recognised'.

Rajya Sabha member Derek O' Brien said the party's stand on Lokpal was consistent and clear and it had become a national stand.

Roy later told a press conference that Trinamool Congress would participate in Assembly elections in Goa, due in March, and Manipur on January 28. 

He also announced that former Goa chief minister Wilfred D' Souza had joined Trinamool Congress.