FIR against HPCA not politically motivated: HP minister
Dharamsala: Refuting claims that the FIR registered against Himachal Pradesh Cricket Association (HPCA) was politically motivated, state minister Anil Sharma yesterday said a vigilance inquiry into the case is in progress which would clarify the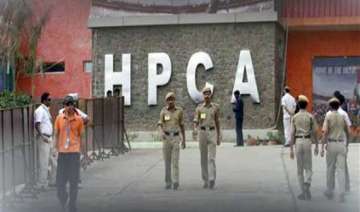 PTI
August 19, 2013 7:30 IST
Dharamsala
: Refuting claims that the FIR registered against Himachal Pradesh Cricket Association (HPCA) was politically motivated, state minister Anil Sharma yesterday said a vigilance inquiry into the case is in progress which would clarify the matter soon.
The animal husbandry minister said that the land leased out to HPCA was found being illegally used, forcing the state government for a vigilance inquiry.
"A vigilance inquiry is on and everything would be crystal clear soon," he said.
HPCA has been accused of wrongfully getting land allotted out of the village common pool for building a hotel in Dharamsala.
An FIR was registered on August 1 against HPCA, headed by BJP MP Anurag Thakur.
Reacting to the registration of the case, Thakur had alleged that the opening of FIRs against the sports body was politically motivated.