Floral arrangements for Obama's R-Day visit exceeds PMO's quarterly flower budget
New Delhi: The preparations of the US President Barack Obama's visit to India on Republic Day are being done with all possible fanfare.The VVIP stage which will be conferred honor by the eminent personalities –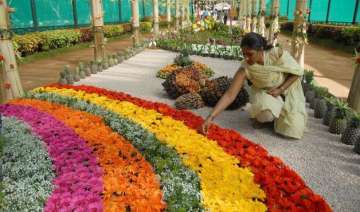 India TV News Desk
January 16, 2015 15:50 IST
New Delhi: The preparations of the US President Barack Obama's visit to India on Republic Day are being done with all possible fanfare.
The VVIP stage which will be conferred honor by the eminent personalities – Barack Obama, President Pranav Mukherjee and Prime Minsiter Narendra Modi will be decorated by thousands of imported flowers like Holland variety Tulips, Dutch roses, Anthuriums, Oriental lilies and Golden Orchids.
Central Public Works Department (CPWD) has estimated that the government will be spending around 15 lakh rupees to make arrangement of these flowers to decorate the saluting dais and rostrum.
This amount is comparatively more than the quarterly expense on floral decorations in the Prime Minister's Office (PMO) or Union Home Ministry.
35000 exotic cut flowers and 20 quintals of loose chrysanthemums and marigolds will be used to decorate the stage where the Chief Guest will be seated.
The event is expected to be a highly-watched global event hence such arrangements are being made. 4000 Holland variety Tulips, 3000 Anthuriums cut flowers, 1500 Oriental Lilies and 1000 golden orchids are being ordered from different regions. This is unlike the regular floral arrangement orders made by the ministry for its top offices in North and South Block.
CPWD has specified "The Cut Flowers and loose Flowers should be fresh, healthy and free from disease" to the supplier fraternity, assuring that the decoration work will get completed within five days till January 25.
The Holland Variety Tulips and other exotic flowers must be "fresh and bright in colour" while the Anthurium have been desired in white or chocolate pink. 
According to the information gathered form various sources; the Centre spends several lakhs of rupees on floral arrangements in various ministries every year. This is one practice going on from British raj days.