Fog cooling system for Shirdi Sai devotees
Shirdi (Maharashtra), Apr 20: The management of Shirdi Sai Baba shrine has arranged fog cooling system for the large number of devotees flocking to this place during summer holidays in 40+ degree celsius.Kishore More, executive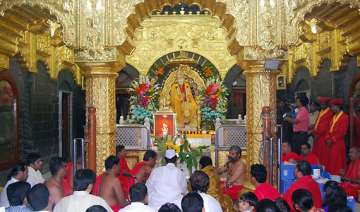 India TV News Desk
April 20, 2012 21:51 IST
Shirdi (Maharashtra), Apr 20:
The management of Shirdi Sai Baba shrine has arranged fog cooling system for the large number of devotees flocking to this place during summer holidays in 40+ degree celsius.
Kishore More, executive officer, said, devotees waiting patiently for long hours in the queue can experiende artificial fog. The system used 800 kilolitres of water every day to feed 200 nozzles with the help of a 2 hp motor to cool the darshan hall spread over 6,000 sq metres.
Installed at a cost of Rs 8 lakhs, the system saves on electricity cost on air-conditioners.