For Presidential polls, Gandhi meets Patnaik, Lalu Backs Ansari
New Delhi, Apr 24: The debate over Presidential candidate picked up further momentum with RJD chief Lalu Prasad pitching for Vice President Hamid Ansari while other parties kept the cards close to their chest.  In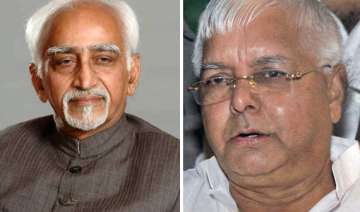 PTI
April 24, 2012 19:59 IST
New Delhi, Apr 24:
The debate over Presidential candidate picked up further momentum with RJD chief Lalu Prasad pitching for Vice President Hamid Ansari while other parties kept the cards close to their chest. 
In an interesting development, Gopalkrishna Gandhi met Odisha Chief Minister Naveen Patnaik in Bhubhaneswar, fuelling speculation that the visit was linked to Presidential polls. 
However, SP leader Mulayam Singh Yadav and BSP chief Mayawati declined to reveal their party strategy on the Presidential elections.
Ansari got support from Prasad who said his party would support the Vice President as the Presidential candidate. 
"Our VicePresident Hamid Ansari should be made the President. He is a good candidate for the President's post. He should be upgraded as the President," Prasad told reporters. 
Asked about his party's stand on former President A P J Abdul Kalam, he said, "Kalam has already been the President.  Now Ansari should be made because he is an able person and his performance is also best in the Rajya Sabha."
Presidential elections will be held in July and the UPA has to depend on other parties as it does not have required numbers to elect a President on its own strength. 
Mulayam said his party has not yet decided on any name for the Presidential candidate, distancing himself from the comments made by party colleague Shahid Siddiqui who had favoured A P J Abdul Kalam but made a U-turn.
"The party has not taken any decision on this," Yadav said.  When pointed out that his party colleague Shahid Siddiqui had favoured Kalam, Yadav dismissed it, saying "it may be his personal view but the party has not decided yet."
Mayawati said, "it is too early to comment on it. Let the name of candidate be declared first and then only we will make our stand known."
BJP leader Rajnath Singh said, "we do not want to comment on any individual. But our view is that there should be a consenus among all political parties on the candidature of the President."
JD(U) leader Sharad Yadav also refused to comment on any name for the Presidential candidate, saying, "let's first hold talks on the issue."
After Gandhi's meeting with Patnaik, speculation was rife that he met the Chief Minister to seek support for his candidature.
The Chief Minister's Office here described the three-hour, one-to-one luncheon meeting as a "courtesy" visit.  Gandhi's visit was significant as it came a day after media reports on certain non-UPA and non-NDA parties planning to support Kalam for the Presidential polls. 
Ansari, who could also contest the presidential polls, had also met the chief minister here recently.  Patnaik is yet to make his stand known about whom his party would support for the post of the President and Vice-President.
In New Delhi, CPI(M) today said it would support a candidate enjoying the "maximum consensus" in the Presidential elections and asked Congress to initiate talks on a war-footing to evolve unanimity as time was running short. 
Senior party leader Sitaram Yechury refused to be drawn into any specific names to succeed incumbent Pratibha Patil, nor any category like "political" or "non-political" for the purpose.
However, he said the CPI(M) would "definitely suggest (name for a Presidential candidate) but we will do it only at the appropriate time after the government starts the process of consultations".
Asked whether the Left parties would be agreeable to names like Pranab Mukherjee or Hamid Ansari, the CPI(M) leader said, "Why should someone object or not object to anyone. The ruling party, by delaying discussions, is allowing lot of speculation. This is not at all healthy".
Maintaining that the criteria for electing the President "should not be on the basis of being a political or non-political person", he said it should be on the basis of who enjoys the maximum consensus.
But for this, the process of consultation has to be initiated by the ruling party and that has not happened so far, Yechury said, adding that "more delay will lead to all sorts of speculation".
Accusing the Congress-led UPA coalition of delaying consultations in the matter, he said only a month remains before the notification for the Presidential poll would be issued and the Congress should begin consultations immediately.
He said even when the Left parties had put up Capt Lakshmi Sehgal of the Indian National Army against A P J Abdul Kalam for the President, "an attempt was made to arrive at a consensus".